The unconscious, consciousness, and the self illusion
Michele Di Francesco , Massimo Marraffa
Dialogues in Philosophy, Mental and Neuro Sciences, 6(1), pp. 10-22 - 2013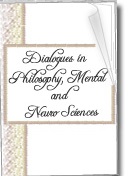 In this article we explore the relationship between consciousness and the unconscious as it has taken shape within of the  contemporary cognitive science – meaning by this term the mature cognitive science, which has fully incorporated the results neurosciences.
In this framework we first compare the neurocognitive unconscious with the Freudian one, emphasizing the similarities and above all the differences between the two constructs. We then turn our attention to the implications of the centrality of unconscious processes in cognitive science for the classical conception of the self.
Our analysis will bring to light a bit of claustrophobic dialectic between an eliminative variety of naturalism and an anti-naturalistic form of hermeneutics. Hence we conclude by recommending the pursuit of a mediation between such extreme stances.
Download articolo completo: